RNA Advisory Pvt Ltd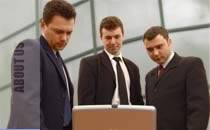 Our team consists of highly qualified and experienced chartered accountant and other professionals, working in tandem to achieve "Total Customer Satisfaction". The Motto of our team is CPI – Customer Satisfaction, Professionalism & Integrity. The team works under the able guidance of its management, highly experienced employees and consultants and associates. Our clientele includes domestic and international entities of various sizes from different industries and sectors of economy, adding manifolds to our practical experience and its useful implementation in problem solving and decision making in the complex financial and corporate world.
OUR TEAM
R. P. Jain (FCA) 
R.P.Jain is the founder member of RNA advisory. He is a fellow member of the Institute of Chartered Accountants of India, a Commerce post graduate and LLB with an experience of more than 30 years. His core skills lie in understanding client's requirements and transforming them into satisfying results. Since over two decades, he has obtained rich experience in almost every field, such as- Taxation Laws, Auditing, VAT, Company Formation And Business Setup, Project Financing, etc. He handles various issues with equal ease but his core expertise lies in Income Tax, Indirect Tax, Financial Consultancy and Audit for complex problems.
Anuj Jain (FCA)
Anuj Jain is the founder member of RNA advisory. He is a Chartered Accountant and a Commerce graduate having an experience of 5 years.He also has expertise in providing financial Consultancy, advising clients on various International tax issues, funding/ entity options, undertaking Internal Audit, Income Tax, Corporate Tax, VAT and Service compliances. He has hands off experience in advising clients on various tax issues, Exchange control issues.
Prior to joining RNA advisory, he worked with companies like GE Capital International Services and Barclays in the fields of corporate finance and Business Planning & Analysis. His prior work experience includes Managing and supervising the entire end to end accounting and reporting of UK based clients. Experience of facing the customer, stabilizing the entire process and heading the account when it was outsourced to India.
Rohin Jain ( Er)
Rohin Jain is the founder member of RNA advisory. He has done engineering studies in Telecommunication and Information Technology Punjab University Chandigarh and worked as a Program analyst with Mind tree Ltd for two years helped developing a solid foundation in Technology and Problem solving skills. Realized the importance of a 'Software-Management amalgam', His core skills lie in understanding client's requirements and transforming them into satisfying results. His experience will give RNA advisory a thorough understanding of how to set up, grow and lead an organization while sharpening ability to analyze technological innovations with regard to strategic planning and global competition.
Currently he is taking care of the technological aspect related to outsourcing division and setting up of offshore centers for various clients based in Australia and US.
RNA ADVISORY Pvt Ltd is amongst the leading Company Registration and Trademark Registration Firm in Delhi, India and is actively engaged in multidisciplinary practices serving an extensive base of eminent clients.
Our strategy involves implementing internal knowledge management systems to deliver performance-based, industry-tailored and technology-enabled business advisory services to our clients thereby creating value and instilling confidence.
Our expertise lies in offering highly reliable Consultancy solutions involving Financial Services, Indirect Tax, Direct Tax, Company Law, FEMA / RBI, Economic Zone and Accounting Services. Our team of Chartered Accountants assists clients in every possible manner to solve all their business problems.
Further, we also deal in services involving Company Registration in India, Trademark registration, FEMA Matters, Advice on Joint Ventures, LLP Registration, Import Export Code, International Taxation, Management Consultancy and due diligence Services etc.